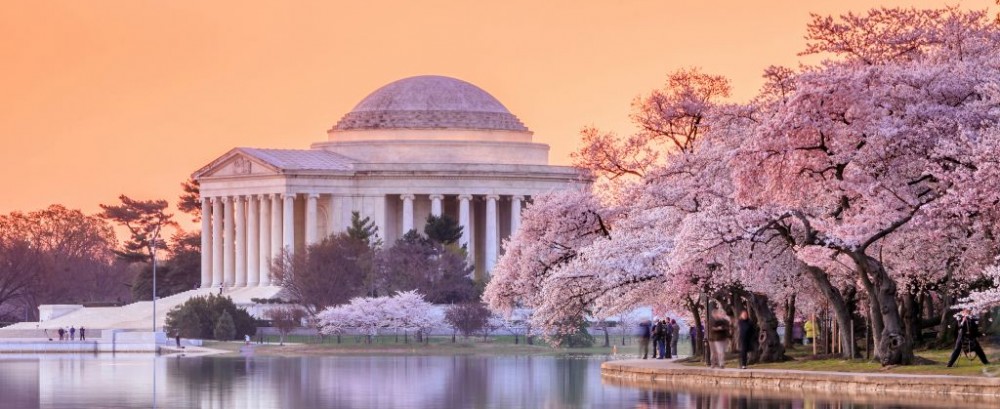 CHERRY BLOSSOM SEASON ETIQUETTE
Whether visiting D.C. specifically for Cherry Blossom festivities, or you are a native Washingtonian, there are few things we can all do to keep Cherry Blossom season pleasant.
Hanami. Hanami, a centuries old Japanese tradition literally means "flower viewing" but is commonly used in the context of cherry blossoms. From strolling down the Tidal Basin to a cruise on the Potomac, cherry blossoms are an amazing sight to behold by day or night.
Know a Few of the Facts. A gift from Tokyo to Washington in 1912, the trees have a unique history that should be understood. Learn all about it here. 
"Is that a Cherry Blossom?" Please refrain from shouting at the sight of every tree in the city, "Is that a cherry blossom tree?" Most likely if you need to ask, it is not. (More of a personal pet peeve). There are 13 plus varietals in DC alone, learn how to spot them.
Beware of "Cherry Blossom" Events. Everywhere you look there is a cherry blossom cocktail on the menu or a souvenir to be sold. There are also a lot of so-called "Cherry Blossom" themed events. But know what you're getting into beforehand. While delightful, most beer and wine festivals won't be an opportunity to view cherry blossoms but are more so an opportunity to revel in the time of year. Here is a list of official signature events.
Find a Quiet Spot. Don't start complaining about how many people are around, we are all sightseers this time of year! I understand that it can be overwhelming to go to more popular areas around the Tidal Basin, so check out this article on less populated areas to enjoy the blossoms.
Know your Metro Etiquette. While it has nothing to do with the cherry blossoms, per se, most people utilize the Metro system to get to the festivities. The rule for escalators is stand on the right, walk on the left. If you are a commuter, try to exercise a pinch more patience this time of year.
Take Care. Finally, never do anything to harm the trees from touching to picking branches. Be certain to keep an eye on little (or big) ones who may be inclined to climb trunks or pull on branches.
I hope you and yours enjoy this beautiful time of year in Washington!
-CommonCurtsey